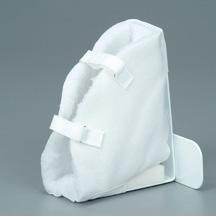 Overview
Heel spurs occur in at least half the people who have plantar fasciitis, a painful condition involving the thick tissue that runs between your heel bone and your toes. In the past, doctors often performed surgery to remove heel spurs, believing them to be the cause of the pain associated with plantar fasciitis. In treating plantar fasciitis now, doctors rely more on ice, arch supports, physical therapy and pain medications, and surgery is rarely performed.
Causes
Bone spurs form in the feet in response to tight ligaments, to activities such as dancing and running that put stress on the feet, and to pressure from being overweight or from poorly fitting shoes. For example, the long ligament on the bottom of the foot (plantar fascia) can become stressed or tight and pull on the heel, causing the ligament to become inflamed (plantar fasciitis). As the bone tries to mend itself, a bone spur can form on the bottom of the heel (known as a ?heel spur?). Pressure at the back of the heel from frequently wearing shoes that are too tight can cause a bone spur on the back of the heel. This is sometimes called a ?pump bump,? because it is often seen in women who wear high heels.
Symptoms
Symptoms may be similar to those of plantar fasciitis and include pain and tenderness at the base of the heel, pain on weight bearing and in severe cases difficulty walking. The main diagnosis of a heel spur is made by
X-ray
where a
bony
growth on the heel can be seen. A heel spur can occur without any symptoms at all and the athlete would never know they have the
bony
growth on the heel. Likewise, Plantar fasciitis can occur without the bone growth present.
Diagnosis
Diagnosis is made using a few different technologies. X-rays are often used first to ensure there is no fracture or tumor in the region. Then ultrasound is used to check the fascia itself to make sure there is no tear and check the level of scar tissue and damage. Neurosensory testing, a non-painful nerve test, can be used to make sure there is not a local nerve problem if the pain is thought to be nerve related. It is important to remember that one can have a very large heel spur and no plantar fasciitis issues or pain at all, or one can have a great deal of pain and virtually no spur at all.
Non Surgical Treatment
To aid in the reduction of inflammation, applying ice for 10-15 minutes after activities and the use of anti-inflammatory medications, such as aspirin or ibuprofen, can be helpful. Corticosteroid injections may also be used to reduce pain and inflammation. Physical therapy can be beneficial with the use of heat modalities, such as ultrasound, that create a deep heat and reduce inflammation. If the pain caused by inflammation is constant, keeping the foot raised above the heart and/or compressed by wrapping with a
bandage
will help. Taping can help speed the healing process by protecting the fascia from reinjury, especially during stretching and walking.
Surgical Treatment
Have surgery if no other treatments work. Before performing surgery, doctors usually give home treatments and improved footwear about a year to work. When nothing else eases the pain, here's what you need to know about surgical options. Instep plantar fasciotomy. Doctors remove part of the plantar fascia to ease pressure on the nerves in your foot. Endoscopy. This surgery performs the same function as an instep plantar fasciotomy but uses smaller incisions so that you'll heal faster. However, endoscopy has a higher rate of nerve damage, so consider this before you opt for this option. Be prepared to wear a below-the-knee walking cast to ease the pain of surgery and to speed the healing process. These casts, or "boots," usually work better than crutches to speed up your recovery time.
Prevention
To prevent this condition, wearing shoes with proper arches and support is very important. Proper stretching is always a necessity, especially when there is an increase in activities or a change in running technique. It is not recommended to attempt working through the pain, as this can change a mild case of heel spurs and plantar fascitis into a long lasting and painful episode of this condition.